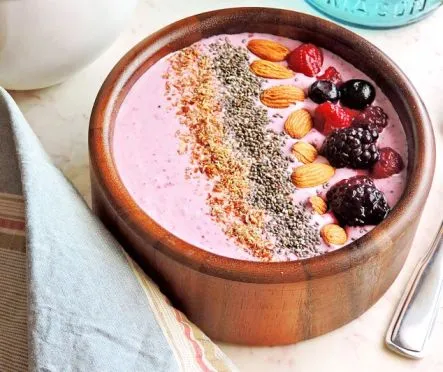 Meals
2023-06-02
Looking for a healthy and delicious breakfast option? Our smoothie bowl recipes are the answer! Made with fresh fruits, veggies, and all-natural ingredients, our bowl recipes are the perfect blend of nutrition and taste. Whether you prefer a fruity combo or a more decadent chocolate flavor, we've got you covered.
Smoothie bowls are a delicious way to nourish your body and tantalize your tastebuds. The base of smoothie bowls is usually made of frozen fruit, yogurt, nut milk, and other healthy ingredients.
One of the most popular smoothie bowl ingredients is acai, which is loaded with antioxidants and vital nutrients. Acai bowls are a delicious and nutritious way to start your day or enjoy a snack.
Central and South American berries like acai are called acai berries. It is high in antioxidants and beneficial plant compounds that can help reduce inflammation and boost heart health.
Image Source: google.com
Acai is also rich in fiber, vitamins A, B, C, and E, and minerals such as potassium and magnesium. The high levels of antioxidants in acai can help protect your cells from damage and oxidative stress.
It can also help reduce inflammation, boost your immune system, and lower your risk of chronic diseases. Acai is even known to promote healthy skin, hair, and nails.
The Most Popular Acai Bowl Spots in Major Cities across the US
Are you looking to tantalize your tastebuds with some delicious and decadent smoothie bowls? Then look no further! Acai bowls are quickly becoming one of the most popular smoothie bowl options and with good reason.
Acai is packed with antioxidants, essential fatty acids, and dietary fiber. If you are in the mood for an acai bowl, you are in luck! There are plenty of popular spots to choose from in major cities across the US.
Here is a look at some of the top places to get an acai bowl in a few of the country's biggest cities:
New York City
The Big Apple is home to several popular spots to grab an acai bowl. Some of the top places to check out include Bluestone Lane, Juice Generation, The Little Beet, and The Good Sort.
Los Angeles
In LA, there's no shortage of delicious acai bowl options. Some of the top acai bowl spots in the city include The Plant Food plus Wine, Squeeze Juice Bar, Leaf Organics, and Gjusta.
Chicago
People in the Windy City can head to places like Kitchfix, Real Good Juice Co., Protein Bar, and Urban Orchard to get their acai bowl fix.
The next time you are hungering a delicious, nutritious acai bowl, be sure to check out one of these top spots in the top cities across the US.
A Guide to Finding Delicious & Nutritious Acaí Bowls No Matter Where You Are
With the rise of smoothie bowls, you may find yourself wondering. How to ensure you get a delicious and nutritious meal. Acai bowls are a great way to tantalize your tastebuds and get a nutritious meal.
Here is a guide to finding delicious and nutritious Acaí bowls no matter where you are.
First, you should do some research about where to find Acaí bowls in your area.
Look for local restaurants that specialize in Acaí bowls or smoothie bowls.
You can also search online for reviews of Acaí Bowl places in your area. This will help you find a place that serves the best quality Acaí bowls. Once you have found a few places that serve Acaí bowls, take a look at the menu.
Ensure to check the ingredients list to ensure that the Acaí bowl you order is made with quality ingredients.